Andrei's Art
I like doing everything at TASC; Classes, working in Candy Bar, going out, physio, going in the pool. In the past I've done computer classes. I do a lot of Art as well. I like doing Art. I like using paints and I prefer working on canvas. I like painting on a canvas because it's bigger and I can use more paint. I don't always know what I am going to do, it just happens!   
Andrei
Life at TASC by Fiona 
When I was nineteen I was packing up teddies and rabbits and all the other things they made. In those days I went five days a week, then when I was twenty six I took a fourteen  year break, while I brought up our son. In 2002 I had the chance to come back for two days a week which I took gladly. So on a Wednesday and a Thursday I come in by taxi. There were a lot of new people at TASC, but there was still half a dozen people I knew. Most of my time is taken up by my cross stitch after I have finished some of my cross stitch, I then write some of my poetry or sometimes I write a bit for the newsletter like my hot air balloon trip that I went on. I join in with the bingo sometimes and I like playing curling and carpet bowls,  I go to the cinema  and theater with TASC. On a Thursday afternoon I always join in with the Zumba which I enjoy, I also enjoy going in the hydro pool. I am now fifty four and I thoroughly enjoy coming to TASC. It is better now than in the early days for there is more for me to do.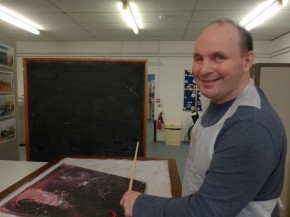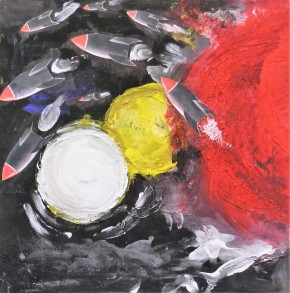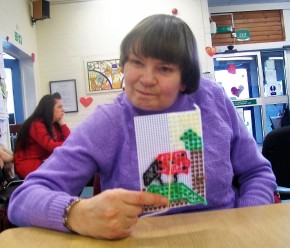 ---