Why do you like being at TASC?
I have been coming to TASC for a lot of years. I have met a lot of people over the years and I have made a lot friends. I like using the computers and having a chat.  I attend our Acklam Road Centre I work in Candy Bar. It is one of our two Enterprises. In Candy Bar we sell drinks and snack. It is run by a group of Members like myself.
Anne
Andrei's Art
I like doing everything at TASC; Classes, working in Candy Bar, going out, physio, going in the pool. In the past I've done computer classes. I do a lot of Art as well. I like doing Art. I like using paints and I prefer working on canvas. I like painting on a canvas because it's bigger and I can use more paint. I don't always know what I am going to do, it just happens!   
Andrei
Life at TASC by Fiona 
When I was nineteen I was packing up teddies and rabbits and all the other things they made. In those days I went five days a week, then when I was twenty six I took a fourteen  year break, while I brought up our son. In 2002 I had the chance to come back for two days a week which I took gladly. So on a Wednesday and a Thursday I come in by taxi. There were a lot of new people at TASC, but there was still half a dozen people I knew. Most of my time is taken up by my cross stitch after I have finished some of my cross stitch, I then write some of my poetry or sometimes I write a bit for the newsletter like my hot air balloon trip that I went on. I join in with the bingo sometimes and I like playing curling and carpet bowls,  I go to the cinema  and theater with TASC. On a Thursday afternoon I always join in with the Zumba which I enjoy, I also enjoy going in the hydro pool. I am now fifty four and I thoroughly enjoy coming to TASC. It is better now than in the early days for there is more for me to do.
A new career?
A few of the members were asked by the School of Health and Social Care at the University of Teesside to come and talk about their experiences. Colin and Lindsey volunteered - they have recently completed a Person-Centred Plan in their 'All About Me' Group. After the presentation they answered questions from the audience and discussed how they felt about the 'All About Me' Group at the centre. They were made to feel really welcome by the students and by the course tutor Mary Dunning.
Fred and Irene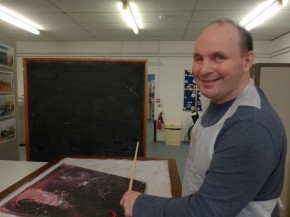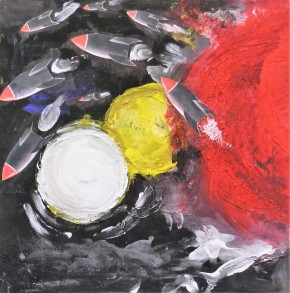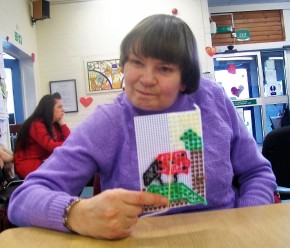 ---